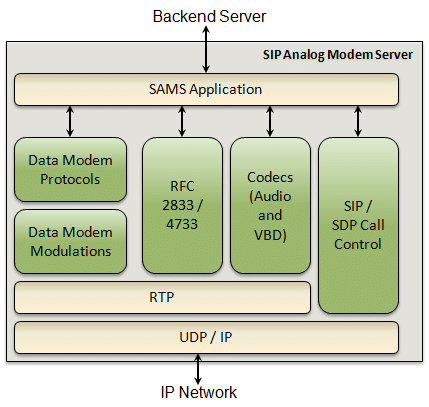 Modems in the cloud are now a reality.  The VOCAL SAMS is a solution for inter-operating with legacy modems without the need for modem banks with E1/T1 connections.
As E1/T1 lines are increasingly being replaced by Ethernet based VoIP systems, companies are often left with modem based technology that can no longer work within the new infrastructure, but remain necessary for daily business.  This can happen with servers interacting with point of sale devices, meters, alarm systems and numerous industrial controllers. Countless M2M applications rely on data modems to accomplish their task.  VOCAL has a number of solutions to allow these applications to adapt to the changing infrastructure.
The VOCAL SIP Analog Modem Server, or SAMS is the centerpiece of these solutions. This Virtual Modem Server allows a business to deploy a server in the cloud, which can work with the modern VoIP phone network infrastructure based on SIP and RTP, instead of necessitating T1/E1 lines to connect to the PSTN.  The Virtual Modem server contains true soft-modems, not just an AT command set on a TCP socket pretending to be a modem.  This allows the server to connect to true voice band modems deployed on the PSTN, and thus does not require installation of additional equipment on the far end of the system.  VOCAL has server configurations supporting a broad range of modems.  And because VOCAL has supplied the modem code for the RAS servers of the analog telephony world,  you know that the modems are industrial grade.
VOCAL servers come in a variety of configurations which cover the full range of ITU V-series modems as well as many other industry standard modulations.  The server is controlled by industry standard AT commands via standard tty nodes and com ports in the server filesystem – just as if it were a box-modem on a serial connection.  This allows it to easily fit into currently existing systems. Many other configurations and methods of control are available in order to flexibly meet the needs of already deployed infrastructure and applications. In addition, VOCAL can customize or build to suit, in order to meet very specific system requirements.
Use Cases
Utility Meters
Alarm Panels
Fuel Monitoring
Building Infrastructure
Point of Sale (POS)
ATM backend
Out-of-Band Management / Managed Network Infrastructure
SCADA backend
Field Medical Devices
PPP/Dial-Up

Features
100% software solution easily migrates to the cloud
Runs on any standard Linux  or Windows distribution
Replaces RAS equipment configurations when analog lines are being replaced with VoIP (SIP/RTP) lines
Scalable – enables a large number of modems on a single server (10s to 100s depending on server and modem rates)
Exports tty (com port) interface for each modem
Each tty accepts industry standard AT commands – – V.250, Industry Standard
Registers with one or more SIP servers (can be phone number per line, modem pool hunt, or other combinations)
SRTP and Secure SIP options available
Dialing commands will make outgoing SIP/G.711 call (with true modulation data in the stream)
Incoming SIP calls will report RING to applications listening on ttys
Compatible with ppp and pppd etc.
Requires no analog audio interface
Slaves to far end modem clock to eliminate skew
High speed data modulation – V.34, V.90, V.92 (optional)
Low speed data modulation – V.32, V.32bis, V.22, V.22bis, V.23, V.21
Bell modulation – Bell 212, Bell 103
Supports standard protocols such as v.42 / LAPM, MNP 2-4
Supports standard compression protocols such as V.42bis and MNP5
More Information