VOCAL's TR-069 Software Stack for VoIP and Gateway Devices implements the Broadband Forum's TR-069 Management Protocol for client Customer Premises Equipment (CPE) remote configuration and provisioning via a TR-069 Auto-Configuration Server (ACS). TR-069, officially referred to as the CPE WAN Management Protocol (CWMP), is used for establishing communication between the client CPE and the remote ACS. A customer's device (e.g. VoIP phone) can have its operational features remotely modified by an ACS, such as which voice codecs may be used during a call, which VoIP service provider to use, etc.
VOCAL's TR-069 and VoIP software contain three main layers – management layer, marmalade services, and the VoIP application.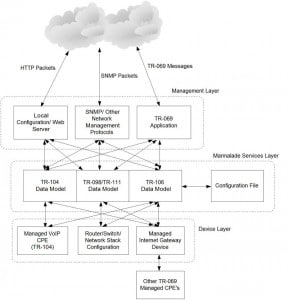 Figure 1: VOCAL's TR-069 Management Protocol supports remote configuration and provisioning of CPE client devices
As observed from Figure 1, the management layer consists of three components – the TR-069 CPE WAN Management Protocol client application itself, along with SNMP and other network management protocols, in addition local configuration commands and a web server that allow for on-premises configuration of the CPE device. The main responsibilities of the TR-069 software management layer are:
Establishing an HTTP connection to the ACS
Parsing and generation SOAP/XML messages
Executing the Remote Procedure Calls (RPC) to the CPE
The marmalade services layer provides the glue between Broadband Forum's data models and the VoIP application. It  provides notifications, alerts and synchronization locks for data integrity. The configuration file allows for permanent storage of changes to the data models.
TR-106 is the baseline data model for the TR-069 Management Protocol. This data model includes the basic device information such as: the Manufacturer of the device, hardware and software version of the device. The data model also includes the basic Management Server information such as: the URL of the ACS, and the username and password for the CPE.
TR-098 and TR-111 provide the data models for Internet Gateway devices within the TR-69 management protocol. The TR-098 data model describes the Gateway device itself. The TR-111 data model is designed to inform the ACS the number of the manageable devices connected to the gateway, and their corresponding manufacturer and serial numbers and product class.
TR-104 is the data model that handles management of the VoIP device. This data model informs the ACS the capabilities of the VoIP device. In addition to configurable parameters such as: which codecs to use, ring patterns, etc.
The changes to the data models of the marmalade service layer are implemented on the software of the managed devices on the device layer. Some of our major features include:
Video conferencing
SIP support with multiple provides
Encrypted communication using secure RTP (SRTP)
Network stack with NAT/firewall support
Voice codes such as G.711, G.722, G.726, G.729AB, and MELP
Line (G.168) and Acoustic Echo Cancellation
An extensive set of telephony features
Call Progress tones with world-wide configurability
Ring patterns with multiple ringing tones
Reference hardware design support
Our optimized TR-69 software allows all DSP functions and application and management protocols to be processed on a single processor. This provides application software developers an integrated and cost effective product solution with a quick time to market.
Standards Interoperability
The VOCAL TR-069 Client software stack  has successfully completed extensive interoperability testing with the Tilgin ACS. The TR-069 Client and TILGIN ACS create a comprehensive system for remote CPE configuration using the TR-069 management protocol.  The system provides full life-cycle support of CPE devices including initial activation, service upgrade, maintenance and subscriber care.
The VOCAL TR-069 Client and the TILGIN ACS coordinate delivery of all services and device updates without any intervention required of the customer. The Client automatically discovers the ACS periodically, at startup, and when notified by the ACS. Using a secure network connection, the Client reconfigures CPE device settings and controls, activates vendor services, and updates applications as provided by the ACS.
Platforms
Texas Instruments – TMS320C62x / 64x / 645x / 67x, DaVinci, OMAP, TMS320C54x / C55x
Analog Devices – Blackfin, ADSP-21xx, TigerSHARC, SHARC
AMCC – PowerPC
MIPS – MIPS32, MIPS64, MIPS4Kc
ARM – ARM7, ARM9, ARM9E, ARM10E, ARM11, StrongARM
iPhone / iPad
Android
Atmel
CEVA – Teak, TeakLite, Palm, Oak
Microchip dsPIC
AMD x86 (MMX) – AMD Geode SC1200
Intel
PowerQUICC – PowerQUICC Pro (83xx), PowerQUICC III (85xx) families
Ikanos – Fusiv processors
ARC Processor IP
NXP Philips Trimedia – TM1000, TM1100, TM1300
VeriSilicon (LSI Logic) ZSP
Please contact us for other supported platforms.
Operating Systems
Android
iOS
Unix,  Linux, uClinux
Microsoft Windows ACM / RTC / CE / Mobile
Symbian,
Mac OS
BSD
VxWorks
Integrity
Please contact us for other supported Operating Systems.
Applications:
Automated TR-069 Provisioning of T.38 Fax Devices
When provisioning T.38 clients devices in a particular T.38 domain, it is tempting to use a default T.38 configuration to provision all units the same. This would avoid negotiating T.38 configuration details between units when setting up a fax transfer session. However, this approach is not recommended due to the ambiguity of default values that have not been specified for different versions of T.38 fax protocol, different default values used for each version, and different preferred configurations used by individual providers.
TR-069 CPE WAN Management Protocol (CWMP) is used for provisioning Customer Premises Equipment (CPE) from an Auto-Configuration Server (ACS). It defines communications between the CPE and ACS for secure auto-configuration of the CPE as well as other management functions.
Under CWMP, the ACS can determine the parameters and capabilities each CPE supports. It can control and monitor individual parameters in each device to handle differences in capability levels, implement different subsets of functionality, and accommodate preferred configurations of different providers.
The CPE can request a provision update or the ACS can inform the CPE that an update that is available. However, TR-69 management protocol allows the CPE to control what updates are permissible including provisioning and firmware updates that can be done for the specific T.38 device, version, and configuration.
Features
Auto configuration management for specific devices, versions, and customer preferences
Automated provisioning of T.38 gateways and individual devices
Web based management of ACS update delivery
CPE control of permitted updates
Benefits
Reduced maintenance and management costs for T.38 equipment variations
Enhanced system security with auto configuration and provisioning