VOCAL provides Lawful Interception software solutions for voice, video, fax/facsimile and data communications.
Decode VoIP audio, video and messaging
Monitor and record analog voice communications
Extract analog fax and T.38 Fax over IP images
Process recorded data, partial files and real-time sources
Support both PSTN and IP networks
Turn-key designs and custom solutions available
As a lawful interception software company and industry leader, our expertise in the design, implementation and configuration of lawful intercept products for fax, VoIP, network, and telephony will help you develop your application quickly and efficiently. Contact us to discuss your lawful interception application requirements.

Lawful Interception (LI)is the process by which targeted communications traffic is intercepted for delivery to a law enforcement agency (LEA) based on a warrant or court order.
VOCAL's lawful interception software libraries are modular and optimized for DSPs and conventional processors from TI, ADI, ARM, AMD, Intel and other leading vendors.  Our software provides a foundation for a complete lawful interception solution and may be licensed as a library or with our ATA hardware reference design. Custom and turn-key designs are also available to meet your specific lawful interception configuration requirements.
Lawful Interception of VoIP
VOCAL's Lawful Interception software includes a VoIP decoder module to handle both audio and video decoding of VoIP communications protocols over mobile and other IP networks from recorded files or real-time sniffer sources and data streams. The library supports VoIP protocols including SIP, SDP, RTP/SRTP, RTCP and RTSP along with SSL and TLS.
Lawful Interception of Voice
VOCAL's Lawful Interception software includes a voice recorder module to monitor voice calls and record multiple analog telephone lines simultaneously.
Lawful Interception of Fax/Facsimile
VOCAL's Lawful Interception software provides a fax monitoring module with a fax demodulator and decoder to handle both standard as well as manufacturer specific T.30 'Non-Standard Facilities' (NSF) features. Blind data retrieval and consistency checks ensure accurate image recovery and avoid any compatibility issues with non-standard fax machines.
Lawful Interception of T.38 Fax over IP
VOCAL's Lawful Interception software also includes extraction of facsimile images from previously captured T.38 Fax over IP (FoIP) network traffic or real-time sniffer T.38 Fax data streams. Our expertise with FoIP, SIP and deep packet inspection is essential for extracting the data of interest from the large volumes of VoIP traffic encountered on today's networks. With these capabilities, developers have a range of lawful intercept software solutions for packet capture, monitor and decode of fax and data modem transmissions.
Lawful Interception of VoIP Communications at an ISP
VOCAL's voice, fax and data intercept solutions may be operated standalone or as part of a lawful interception system where the intercepted information is captured at an ISP and distributed to authorized law enforcement destinations where it can be decoded and interpreted. The architecture below illustrates the lawful interception apparatus and methods for a telecom traffic probe, analysis and capture of VoIP network traffic at an ISP.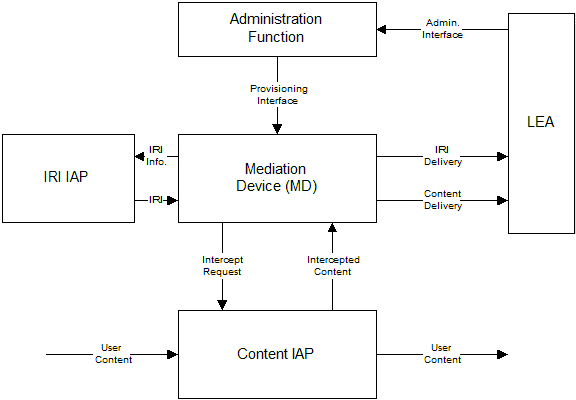 Lawful Interception Gateway delivers VoIP network traffic captured at an IAP to the LEA
The law enforcement agency (LEA) sends a request to the lawful intercept controller (system administrator). Based on the authorized level of access for the LEA and the request, either the lawful intercept related information (IRI), content or both is then collected by the respective intercept access point (IAP) and delivered by the lawful interception gateway to the LEA for processing.
Typically, automatic sniffer programs analyze telecommunications traffic and intercept data at access points on the digital segments of PSTN and on IP networks at routers and switches using port mirroring or network taps to capture the packet data at network speeds. Either method duplicates and diverts the packets without interfering with the original data stream. Traffic analysis ensures that either the entire data stream or only those packets that satisfy the frame capture filter criteria are acquired for further processing.
When the initial call information is placed, the system can detect the event and record this information as the IRI. If the LEA is only authorized to receive the IRI, this information is passed to the LEA along with any other lawful intercept related information. If the call information is to be collected, the IRI will contain information, such as the caller ID, IP address and encoding scheme, needed to find and track the call session.
Lawful Interception Requirements
Most nations have some requirement for lawful interception compliance and reporting standards that service providers must satisfy. In the United States, the Communications Assistance for Law Enforcement Act (CALEA) requires licensed telecommunications companies including common carriers, broadband Internet access and Voice over Internet Protocol (VoIP) service providers, to support lawful intercept efforts.
Requirements may vary across national and even state boundaries. Service providers must:
Understand their obligations for each jurisdiction in which they operate.
Coordinate intercepts with other providers and network operators.
Handle targeted individuals that temporarily access their own network.
Transfer, exchange or even suspend collection activities as the person of interest crosses jurisdictional boundaries.
Because of the sensitive nature, there are basic lawful intercept security, requirements, constraints and provisions which need to be met.
Access Control: Only authorized entities should be allowed to access collected information. Also, there may be restrictions on WHAT information is to be passed to the LEA (for example, only the caller information). Finally, undelivered information must be kept in such a way that if power is lost, that information is destroyed.
Accountability: All events and related information for authentication, access, transfer, exchange and destruction of lawful intercept information must be documented for compliance.
Encryption Keys: Any encryption keys known by the service provider must also be passed to the LEA. In case of end-to-end encryption (i.e. using a key unknown to the service provider), the entire intercepted packet must be delivered.
Secrecy: Intercepts must be done in such a way that the target or subject of interest is not aware that surveillance, monitoring and acquisition of communications is taking place.
Platforms

VOCAL's optimized software is available for the following platforms. Please contact us for specific lawful intercept software supported platforms.
Processors
Operating Systems

Texas Instruments – C6000 (TMS320C62x, TMS320C64x, TMS320C645x, TMS320C66x, TMS320C67x), DaVinci, OMAP, C5000 (TMS320C54x, TMS320C55x)
Analog Devices – Blackfin, ADSP-21xx, TigerSHARC, SHARC
PowerPC
MIPS – MIPS32, MIPS64, MIPS4Kc
ARM – ARM7, ARM9, ARM9E, ARM10E, ARM11, StrongARM, ARM Cortex-A8, Cortex-M1
Intel / AMD – x86, x64 (both 32 and 64 bit modes)

Google Android
Apple iOS / iPhone / iPad & MacOS
Unix,  Linux, μClinux, BSD
Microsoft Windows ACM / RTC / CE / Mobile
Symbian
eCOS / eCOSPro
Wind River VxWorks
Green Hills Integrity
VOCAL LANsEND
Micrium μCOS