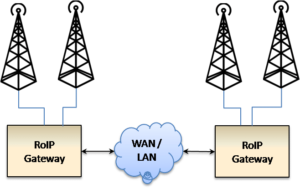 VOCAL's RoIP Gateway provides a complete communications solution for interconnecting different radio systems over IP networks. Our gateway design provides cost effective links between radio networks in remote areas where long distances, difficult terrain or other conditions make continuous line of sight communications cost prohibitive. Contact us to discuss your radio over IP application.

VOCAL's RoIP software is optimized for performance on ANSI C and leading DSP architectures from TI, ADI, ARM, Intel and other vendors. Our RoIP Gateway Reference Design may be licensed as a complete turn key system with custom solutions available to meet your specific requirements.
RoIP Gateway Features:
Turn key RoIP Gateway hardware and software solution
Supports full duplex and half duplex modes of operation
Supports PTT and other radio control signaling
Support for RoIP with and without ED-137
MELPe, G.711, G.729AB and other standard voice codecs available
Robust echo canceller and noise reduction software available
Network stack with adaptive jitter control available
SRTP for secure communications available
Custom design solutions available
Applications
Interoperate Industrial, Commercial, Medical and Mobile Radio Networks
Home Land Security
Public Safety / First Responders

Radio Over IP Gateway Reference Design
VOCAL's RoIP Gateway reference design enables rapid development of networked RF applications using IP protocols. Our RoIP solution is compatible with various radio standards and supports both full-duplex and half-duplex RF. The RoIP gateway radio controller interfaces with the local radio unit to transmit and receive RF signals on the local radio network. The radio controller supports full and half-duplex radio communications as well as PTT and other radio controls. The media processor sends and receives digital radio packets over an IP network.

VOCAL's RoIP Gateway supports full and half-duplex RF communications using radio over IP networks
VOCAL's RoIP software provides application developers a highly configurable framework with a network stack, jitter control, RTP, and other networking protocols. In addition, our software provides a wide range of voice compression algorithms including MELPe, G.711, G.722, Speex, etc. as well as robust echo cancellation and noise reduction algorithms. When combined with SRTP, SDES, IPsec and encryption, VOCAL's comprehensive RoIP software can ensure secure communications with superior voice quality in the most challenging of environments.
Reference Design Kit
VOCAL's RoIP Gateway RDK consists of a customizable, fully-functional hardware and software solution including:
Schematics
BOM
Complete custom firmware
Technical engineering assistance with layout design and hardware bringup
Lifetime product maintenance and support
Platforms

VOCAL's optimized Echo Cancellation software is available for the following platforms. Please contact us for specific Echo Cancellation supported platforms.
Processors
Operating Systems

Texas Instruments – C6xx (TMS320C62x, TMS320C64x, TMS320C645x, TMS320C66x, TMS320C67x), DaVinci, OMAP, C5xx (TMS320C54x, TMS320C55x)
Analog Devices – Blackfin, ADSP-21xx, TigerSHARC, SHARC
PowerPC, PowerQUICC
MIPS – MIPS32, MIPS64, MIPS4Kc
ARM – ARM7, ARM9, ARM9E, ARM10E, ARM11, StrongARM, ARMCortex-A8/A9/A15/A3x/A5x/A7x, Cortex-M3/M4/M7/M33
Intel / AMD – x86, x64 (both 32 and 64 bit modes)

Linux, uClinux, BSD, Unix
Microsoft Windows ACM / RTC / CE / Mobile
Apple iOS / iPhone / iPad & MacOS
VOCAL LANsEND
Google Android
Green Hills Integrity
Micrium μCOS
Symbian
Wind River VxWorks
eCOS / eCOSPro