VOCAL's VPBX Home Gateway Reference Design details an example of an innovative Voice over IP-PBX product which uses HPNA and an Internet connection to meet all of a household's telephony needs. It is composed of the VPBX Home Gateway Unit (VHGU) and the VPBX Extension Device (VED). The VHGU is the central controller, handling all networking and voice/telephony processing as HPNA connectivity to VED endpoints. The VEDs are minimal POTS interfaces that may be placed anywhere on the HPNA network. Calls are placed from the VEDs through the VHGU to external parties as appropriate for the type of call.
HPNA, or HomePNA, refers to the Home Phoneline Networking Alliance. HPNA technology allows for new multimedia services such as IPTV and VoIP to be brought into the home without requiring new wiring. Existing phone lines and coax cables are used to provide high-speed data rates of up to 320 Mbps. This makes a wide range of home networking functionality available at low cost, such as whole-home IPTV, PVR, DVR, HD video, etc. Voice, video, and Internet access provided by fiber, DSL, wireless, and satellite sources can be easily distributed throughout the home or multiple-dwelling unit (MDU) using HPNA.
The HPNA-based VPBX system allows a homeowner to use any phone in the house to access their VoIP calls. Moreover, the VPBX permits seemless access to the original telephone company PSTN line and up to 4 different VoIP service providers. VOCAL's Concurrent VoIP ™ technology allows one of these service providers to be MGCP-based while the others may be SIP-based. The VPBX system also supports station-to-station dialing and paging within the home environment.
We have over 20 years of custom design and development experience in the telecommunications industry, our expertise and extensive customization support will result in the product you want at an unbeatable cost. Since VOCAL provides both the hardware design and a complete, optimized software solution, the result is a fully integrated, robust product which can be brought to market quickly.VOCAL's VPBX Home Gateway System exemplifies a standards-based next-generation product, with an extensive feature list, world-wide configurability, multilingual support, and simple upgrade/expansion paths. Our Reference Designs far surpass the competition in terms of cost advantage and time-to-market potential, achieving scalable channel density while supporting easy integration of new feature modules.
The following block diagram provides an illustration of the complete VPBX Home Gateway System.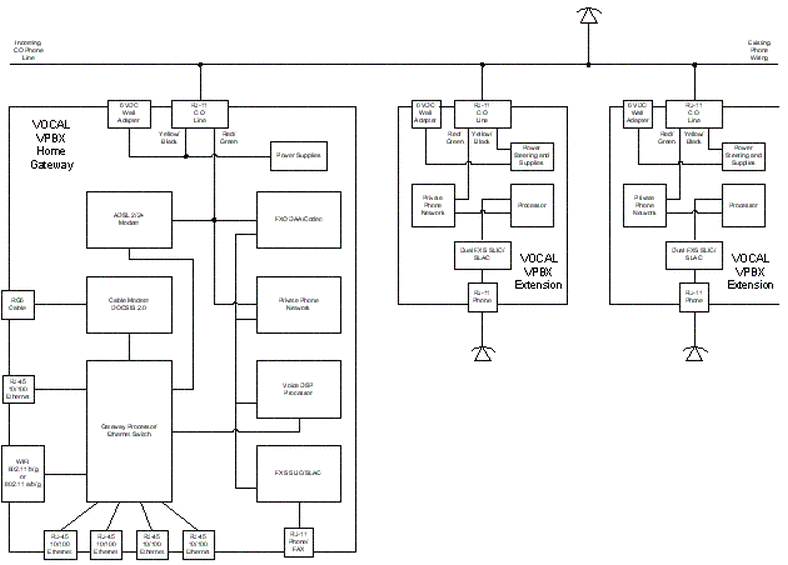 Figure 1. VOCAL VPBX Home Gateway System
Major Features
Complete listings of all the features and technical specifications are available. Highlights of the VPBX Home Gateway Reference Design include:
WAN support (10/100 ethernet, cable modem or DSL) and WLAN support
Multiple line support for FXS and FXO ports with multiple ethernet ports
SIP and/or MGCP support with multiple VoIP providers
Network stack with NAT/firewall support
High performance G.168 echo canceller
An extensive set of telephony features
Call progress tones with world-wide configurability
Ringing patterns with multiple ringing tones, message waiting (tone/ring/visual), etc
Quality of service configurability
Flexible configuration and provisioning options
Multilingual Web configuration via built-in Web server and hierarchical user levels
Mass production support for flashing code image, firmware configuration, and testing
Remote administration and firmware update
Power-off/911 service failover
Interoperability
The compliance of our telephony software to industry standards has been consistently demonstrated over the course of twenty years of software and hardware development and testing. Over 10 million ports of VOCAL products have been shipped by our customers over the past 10 years, using VOCAL's voice processing, data and facsimile modulations, data protocols, facsimile command sets, and network protocol stacks. Many high density server systems have been developed using VOCAL software, each meeting extensive interoperability standards.
Our VoIP software works seamlessly with popular industrial servers such as those available from Cisco, Quintum, NetCentrex, and Asterisk. VOCAL has conducted exhaustive compatibility and interoperability testing using many VoIP providers. Example configurations for service providers such as Vonage, Broadsoft, Global Village, Free World Dialup, as well as many others are available. Device configuration can be completely managed using the web interface built into the product software or restricted as desired by the licensee. For further information regarding compatibility and interoperability testing, please contact us.
Provisioning
The provisioning and continued management of deployed devices is a common consideration for many VoIP service providers and product manufacturers. VOCAL's flexible TR-069 software interface is designed to support many common provisioning restrictions, including hierarchical user access levels, restricted network or internet access, as well as manual or automatic firmware updates. In addition, we can customize our provisioning mechanisms to meet any specific provisioning requirements.
Individual advanced features may be configured based upon the customer's service plan and administrators may prepare configuration change files and firmware updates for automatic distribution to deployed products. All tone and ring cadences and frequencies are configurable to meet world-wide requirements and international call progress standards. Similarly, multilingual web access and configuration of the VoIP device through its built-in web server is not only possible but may be set dynamically. Since configuration files may be developed for a specific item or a whole product line with similar ease, management and control of the product is under complete administrator control.
More Information
More detailed information is available in the following areas: